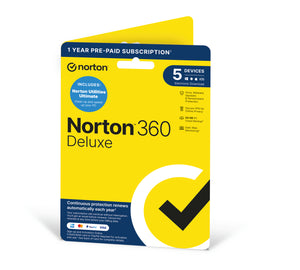 Norton
Norton 360 DELUXE + Utilities Ultimate 2024 5 Devices - 12 Months
Norton 360 DELUXE + Utilities Ultimate 2024 5 Devices - 12 Months | VPN | Password Manager | SafeCam | 50GB Cloud Backup | Parental Control - Subscription with Automatic Renewal
You can receive your product via Email or Post, just choose from the Delivery Method Option drop-down menu above.
PLEASE NOTE: Physical Delivery via Post is only available to a UK Postal address!
For your attention: All Product Keys and Instructions will be sent in English Text only
PLEASE NOTE: Norton 360 will only install within the UK/Europe.
You cannot install this software on any device outside of Europe.

Norton Utilities Ultimate with only install within the below countries.
You cannot install this software on any device outside of these countries -

UK, Germany, Austria, France, Belgium, Netherlands, Ireland, Italy, Portugal, Spain, Switzerland, Sweden, Norway and Denmark
Norton 360 DELUXE + Utilities Ultimate 2024 - 5 Devices with 12 Months Subscription
Your partner against cyberthreats. Norton™ 360, powerful protection against the evolving cyberthreats to your devices and online privacy.
Norton 360 provides powerful layers of protection for your devices and online privacy against cyberthreats as you bank, shop and browse online – all in a single solution.
It comes with Dark Web Monitoring and scans the dark web for your personal information, and if it's found we notify you. When connecting to Wi-Fi your online privacy has protection with bank-grade encryption from Norton Secure VPN.
Norton Password Manager tools help you create and manage your passwords and online credentials, while Norton PC Cloud Backup,3, 4 helps prevent data loss due to ransomware, hard drive failure or stolen devices.
Plus, our Virus Protection Promise offers a refund. If your device gets a virus we can't remove, you get your money back.2
PRE-PAID SUBSCRIPTION WITH SIGN UP AND ACTIVATION ONLINE: A payment method (credit card or PayPal) must be saved in your Norton account to activate and use.¹ No charge occurs before the billing date for the subscription renewal. 

SUBSCRIPTION WITH AUTOMATIC RENEWAL: No service disruption since this subscription automatically renews annually. If you do not wish to renew, you can cancel the subscription renewal in your Norton account at any time before the day on which you are due to be charged.
PRODUCT FEATURES
Device Security : Real-time protection for your devices against ransomware, viruses, spyware, malware and other online threats
Dark Web Monitoring : the dark web is scanned for your personal information and we notify you if it's found
Secure VPN : Access your favourite apps and websites when connecting to Wi-Fi at home or on-the-go with the reassurance of bank-grade encryption. (Secure VPN is not available in all countries– check local legislation).
PC Cloud Backup :3, 4 50 GB of cloud storage to store important files and documents as a preventive measure against data loss due to hard drive failures, stolen devices and even ransomware
SafeCam :4 Instantly alerts you to any attempt to access your webcam and helps you block those who are not authorised to access it.
Smart Firewall for PC or Firewall for Mac : Monitors communications between your computer and other computers and helps block unauthorized traffic.
Parental Control :‡ Parental tools to help your kids explore the Internet more safely
Online Threat Protection : Advanced security helps protect your private and financial information when you go online
Link Guard :*** Highlights potentially malicious links in webmail or social media feeds to warn you before you visit them.
Online Banking Protection :*** Provides an additional layer of security and peace of mind when you are transacting with financial sites, such as your bank or credit card company.
Web Isolation :*** Seamlessly opens questionable links as an image to help protect against phishing attacks by hiding your personal information and IP address.
Password Manager :*** Tools to easily generate, store, and manage your passwords, credit card information and other credentials online – more securely.
Virus Protection Promise : From the moment you subscribe, a Norton expert is available to help keep your devices virus-free, and if not, will give you a refund.2
System Requirements
Windows® Operating Systems
Microsoft® Windows® 11/10 (all versions), except Windows 11/10 S.
Microsoft Windows 8/8.1 (all versions). Some protection features are not available in Windows 8 Start screen browsers.
Microsoft Windows 7 (all versions) with Service Pack 1 (SP 1) or later

with SHA2 support

.
Mac® Operating Systems
Current and previous two versions of Mac® OS.
Features not supported: Norton Parental Control, Norton Cloud Backup, and Norton SafeCam.
Android™ Operating Systems
Current and previous three versions of Android - Must have Google Play app installed.
Please note: Not supported with Chromebook, HUAWEI devices, or Amazon devices
iOS Operating Systems
iPhones or iPads running the current and previous two versions of Apple® iOS
Utilities Ultimate 2024 with 12 Months Subscription
Product Overview

Unleash your Windows PCs performance capabilities

Personal Computers lose performance over time unless they're maintained. For many PC owners knowing how to maintain their PC is a mystery. Norton Utilities Ultimate takes the guesswork out with tools to make maintaining your PC simple. Its comprehensive toolbox and easy to use interface, helps you keep your PC in optimal performance. Some tools can even be set to automatic mode, so they work while you are away from your device. Others work in background mode, quietly helping to keep things running smoothly.

You'll experience improved response times, faster downloads and improved streaming. The Protect toolbox helps keep the user data on your device private, including a File Shredder to help ensure the sensitive files you shred are permanently destroyed. Lost an important file? The powerful Search and Recover feature will help you find files you thought you'd lost for good. For some, it might even feel like they have a new computer.

Help make your Windows PC work like new again with Norton Utilities Ultimate.

Key Benefits

For smoother gaming, and streaming, Norton Utilities Ultimate automatically helps boost your PCs processing power

Cleans and helps speed up your PC by working to fix frustrating issues that can cause slowdowns or crashes
Identifies and helps you remove unwanted startup programs that slow you down
Frees up space on your hard drive to allow you faster access to programs
Automated PC care that works when your PC is idle
Automatically boosts your PCs processing power for smoother gaming, editing and streaming experiences
New tools from Norton Utilities Ultimate help you maximize your PC's performance for faster streaming
Pep up your PCs speed. Norton™ Utilities Ultimate helps remove junk files and bloatware while streamlining your Windows™ PC data for faster response time when gaming, streaming video or launching high-demand apps. Plus, it includes an On-Demand Boost, that lets you stop background services to help provide you with maximum power and speed when gaming.

It even scans your network for excessive bandwidth use and processes that clog system resources and slow down your PC, so you can reallocate resources for optimal performance. If you change your system settings and change your mind, System Restore lets you undo those changes with a few clicks.

Should you accidentally delete or lose a file it's no problem, Search and Recover tools help you restore them. While Windows 10 System Privacy features help prevent the operating system from sharing your device data.

Norton Utilities Ultimate also includes Automatic Care for advanced cleaning and repair of your Windows™ PC. It goes to work removing clutter and helping to fix problems when your PC is idle, so when you return your PC is all tuned up and ready to go.

System Requirements

It may be installed on up to 5 Windows PC devices (Microsoft Windows Only)

Requires Admin privileges to run, and a high-speed Internet connection plus the following system requirements are required.

Minimum Microsoft Windows OS Requirements

CPU: 1GHz

Memory: 1 GB for 32-bit, 2 GB for 64-bit
NET 4.6.2 installed
Windows™ Operating Systems
Microsoft Windows 11/10/8.1/8/7 with Service Pack 1 (SP 1) or later (both the 32 and 64-bit versions, excluding Windows on Arm Processors, in S mode, Mixed Reality, Mobile, IoT, Starter, and RT editions)
Additional Hardware Requirements
100 MB of available hard disk space

SVGA (1024 x 768) video
Internet connection (to activate Norton Utilities Ultimate and receive updates)
T&C's
No one can prevent all cybercrimes or identity theft.
¹ 12 MONTH PRE-PAID SUBSCRIPTION: To activate, sign up online and save your billing information in your Norton account. Automatically renews each year, unless the renewal is cancelled before the day you are due to be charged in my.norton.com or by contacting Norton Support. The subscription renewal is charged at the renewal price found at norton.com/pricing. Price is subject to change, but a notification email is sent before billing. Under NortonLifeLock Cancellation & Refund Policy once activated, you can cancel your contract and request a full refund within 60 days of the purchase, and for each annual renewal within 60 days of being charged. Subscription begins upon online activation. To launch the service, download/install on each device, and/or complete set-up. Updates and features may be added, modified or removed, subject to the License and Services Agreement. Data collection, storage and use for subscription management and renewal purposes subject to NortonLifeLock Global Privacy Statement.
2 Restrictions apply. Must have a qualifying subscription that is automatically renewing. See Norton.com/virus-protection-promise for details.
3 Requires your device to have an Internet/data plan and be turned on.
4 Norton Cloud Backup features are only available on Windows (excluding Windows 10 in S mode, Windows running on ARM processor).
4 Norton SafeCam features are only available on Windows (excluding Windows 10 in S mode, Windows running on ARM processor).
§ Dark Web Monitoring (DWM) is not available in all countries. Monitored information varies based on country of residence. It defaults to monitor your email address and begins immediately. Sign in to your account to enter more information for monitoring.

‡ Norton Parental Control features are not supported on Mac or Windows 10 in S mode.
*Important Subscription, Pricing and Offer Details:
Your Norton subscription from Simply Antivirus begins when your purchase is activated. You must download and install on each device or complete enrolment to get protection.
By subscribing, you are purchasing a recurring subscription direct with Norton, which will automatically renew after the first term

(Please note, this can be switched off at any time from within your Norton online account)

The price quoted today is valid for the first term of your subscription. After that, your subscription will be billed at the applicable monthly or annual renewal prices. The price is subject to change, but Norton will always send you a notification email in advance.
You can cancel your subscription from within your online Norton account. or by contacting Norton's Member Services & Support. For more details, please visit the Refund Policy on the Norton website.
Your subscription may include product, service and /or protection updates and features that may be added, modified, or removed subject to the acceptance of the License and Services Agreement.
The number of supported devices allowed under your plan are primarily for personal or household use. If you have issues adding a device, please contact Norton Member Services & Support.
** Mobile app must be downloaded separately.
*** Norton Password Manager is not exclusive to Norton AntiVirus Plus or Norton 360 functionality but is independently available for free online.
*** Norton Safe Search and Norton Safe Web online browsing features are not exclusive to Norton AntiVirus Plus or Norton 360 functionality but are independently available for free online.
Please Note: Norton no longer provide CD for installation, but now provide easy access to download software
IMPORTANT NOTICE:
Software Returns Policy:  Software Products are exempt from being returned under the UK/EU Distance Selling Law.
We can offer limited installation support by contacting us or alternatively you can speak direct to Norton's 24/7 Support line on Tel. 020 7616 5600
We will email you a renewal notification reminder when this product is coming up for renewal. This is just a courtesy reminder and you are in no way obligated to purchase from us again, but we hope we had provided great service and pricing that you would consider using us for your renewal. If you do not wish to hear from us again, just click unsubscribe from the reminder email we send, and you will be removed for renewal notifications in the future.
Copyright © NortonLifeLock Inc. All rights reserved. NortonLifeLock, the NortonLifeLock Logo, the Checkmark Logo, Norton, LifeLock, and the LockMan Logo are trademarks or registered trademarks of NortonLifeLock Inc. or its affiliates in the United States and other countries. Firefox is a trademark of Mozilla Foundation. Android, Google Chrome, Google Play and the Google Play logo are trademarks of Google, LLC. Mac, iPhone, iPad, Apple and the Apple logo are trademarks of Apple Inc., registered in the U.S. and other countries. App Store is a service mark of Apple Inc. Alexa and all related logos are trademarks of Amazon.com, Inc. or its affiliates. Microsoft and the Window logo are trademarks of Microsoft Corporation in the U.S. and other countries. The Android robot is reproduced or modified from work created and shared by Google and used according to terms described in the Creative Commons 3.0 Attribution License. Other names may be trademarks of their respective owners.
---
More from this collection