• antivirus • Antivirus Software • cyber attack • cyber security • cyber-criminals • data protection • future technology • geolocation • hackers • Hacking • home devices • home systems • Internet security Software • malware • McAfee Antivirus software • Norton 360 • Norton Antivirus Software • passwords • privacy • protection • ransomware • security • smart camera • SMART DEVICES • technology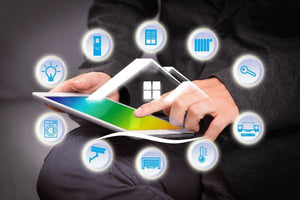 Did you know that your fridge, washing machine, fitness bikes or even your smart Doorbell may be fitted with an Internet/Wi-Fi device? More and more of our household machines and 'things' are now being fitted with wi-fi receivers, sensors and other technological software. The Internet of things (IoT's) describes the network of physical objects—a.k.a. "things"—that are embedded with sensors, software, and other technologies for the purpose of connecting and exchanging data with other devices and systems over the Internet. For us consumers, it means that our things can be 'controlled and Programmed' without the aid of a keyboard or screen. Many of our...
---
• cyber security • cybercriminals • data protection • firmware • global devices • home devices • home systems • innovations • malware • monitoring tools • protection • security technology • smart camera • SMART DEVICES • software • spying • spyware • technology • update
A warning has been issued from the UK's cyber security department, highlighting the security & privacy' dangers' of these types of devices when not protected properly. These items can be infiltrated by cyber-criminals when the devices have been left with their default security settings.  The advisory information is to change the settings immediately after purchase, with a complex (not easy to guess) and secure private password, that would make it difficult for a hacker to be able to break in and be able to observe your home & loved ones. We all know and agree what fantastic innovations these devices...